We talk a lot here about how email newsletters are the key to building a community around your publication. But once you get started with a daily newsletter to share the latest news, then add in a weekly email or two with in-depth content, and then segment some free and paid emails - you've suddenly got a busy content calendar to manage.
How do you keep on top of so much email content without it becoming a planning nightmare?
Trello to the rescue
If you haven't heard of Trello, it is a free online planning tool that you can use to organize your workflow schedule, help with your task planning or practically anything else. Whatever you are working on, there are three different ways that you can plan your activities inside Trello:
Boards - this is the overall workspace and blank canvas that you create for a project, calendar or recurring process
Lists - these are individual categories that look like columns on your Board
Cards - they are the most detailed item that you can create in Trello and are represent by small rectangular. They can be moved between the different lists on your board
A basic example of Trello would be using it to plan and track your To-Do list with:
Cards that represent each individual item to-do in your plan
And lists that represent each stage an item could be in: To Do, Doing, Done
Trello has more basic examples and templates on their website if you want to familiarize yourself more before diving in.
How to manage your email newsletters with Trello
At Epilocal, we use Trello for a lot of our internal planning and especially for our content management calendar. So we decided that we should take what we've learned about Trello and develop a simple template to help small publishers keep on top of their email newsletters.
This became our free Newsletter Publishing Flow template that we recently published on Trello's platform.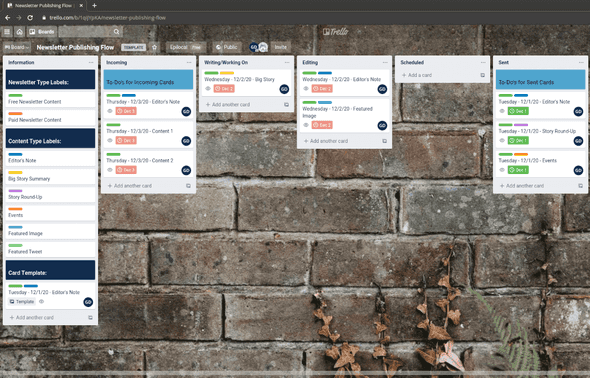 Here's how it works:
1.) Make a copy of the template for free
This will create a new board that is already pre-configured and ready to go. You can find the free template on Trello's platform here.
2.) Think of the different pieces of content that you will create for your email newsletters in terms of blocks -> these will be your Trello cards
This is especially important if you have multiple people on your team working on the same schedule - try to split your content into bite-sized chunks that are easy to assign.
We have created example categories for different types of email content like Big Story or Story Roundup but feel free to change these depending on whatever type of content you have in your email newsletters. Trello has a color-coding system called Labels that you can use to make these categories stand-out with a quick glance.
3.) Match the different steps in your email publishing schedule to your Trello lists
We have already done this in the template using the following steps as lists: Incoming, Writing/Working On, Editing, Scheduled and Sent.
You can change the lists depending on how your publishing schedule looks, but the way it works in the template is:
Incoming - content cards are placed here to begin the flow and are given a due date for when the email newsletter they are part of will be published
Writing/Working on - once someone on your team has picked up a content card and started working on it is moved here
Editing - cards will be moved here when the member of your team has finished working on that piece of content and it is ready for editing
Scheduled - this is where cards that have finished editing are placed until the email they are part of is actually sent out to readers. It means that editing is complete and the email newsletter is scheduled to be sent.
Sent - once an email newsletter is sent, all cards that were part of that newsletter are moved to Sent and can then be archived once the list gets too long. Every time cards are moved to Sent, more content cards should be added to Incoming for upcoming email newsletters.
4.) Make the most out of Trello's features
In our email newsletter calendar template, we have used a few of the most common, free features in Trello:
Team Members - each card in Trello can be assigned to a "member" of that Trello board who has been given access. This is the way that you can assign work to different members of your team
Labels - cards in Trello can be given color-coded labels to make them stand-out more and convey information easier. We've used color-coded labels to show the content-type of each card as well as which email newsletter it is a part of. (in our example, there are two email newsletters: one Paid and one Free)
Due date - you can also assign calendar Due Dates to individual cards. These will turn red if they are past due or green if they are on track. This is a great way to keep on track of your publishing calendar, although we also write the date each content block email will be sent in the Card's title to be even more clear.
Beyond this Trello has a wide variety of paid features so can go even further with customizing to your tastes.
We hope that you will find Trello as useful for managing your email newsletters as we find it for planning practically everything we do. And please let us know what you think of the template - here's the link to it one more time.
Get access to all of our free resources
Create a free account to get access to all of our free resources that will help you build a sustainable business around your content