Having trouble keeping on top of your newsletter publishing schedule?
We've got a Trello board for that.
We originally designed this board for local newspapers to organize their newsletter publishing flow. As you can imagine, they do a lot of newsletter volume as most have at least one daily email newsletter and many have several. So if it can help them, it can help anyone who regularly sends email newsletters to stay on top of their publishing schedule.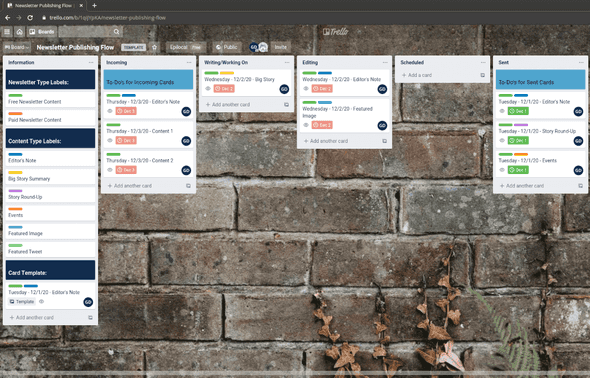 How does it work?
We have broken up the board into sections based on a kanban publishing flow. The different sections are:
Incoming
Writing/Working On
Editing
Scheduled
Sent
Each card represents a section of content in a single newsletter which are color coded by the type of content and whether the content is for Free or Paid subscribers.
When adding a card a new card as Incoming you:
Assign someone (either yourself or someone else)
Give it a title using the Naming Convention: Day of Week of Newsletter - Date of Newsletter - Content Type (e.g. Thursday - 12/01/2020 - Editor's Note)
If you already have an idea for what the content will be about, put it in the description of the card
Add the date that the card will be published as the 'Due Date'
Apply the color label applicable to the card's content
Then as you work on the content, you move the corresponding card through the different steps in the workflow.
Once a newsletter is actually sent to your subscribers, you move all of the corresponding content blocks to Sent and:
Check off the due-date marking the card as complete
Add new Incoming cards for the next newsletter
How to set it up
Follow the link below that will take you to a public copy of the board on Trello. Then you simply press the button that says: "Create Board from Template" and follow the instructions. Trello has more instructions here.
---