Put your newsletter at the center of your website with our free Ghost theme
No matter what type of of website or blog you have, newsletters and memberships are becoming increasingly important to building a community around your content. And no content management system brings these things together better than Ghost - all while doing it with a simple, clean design. Although many publishers are still using WordPress for their content management, we strongly feel that Ghost is the future so we built a free Ghost theme to show off the best of what it can do for your blog or website.
Introducing Newsliner - our free newsletter-first theme for Ghost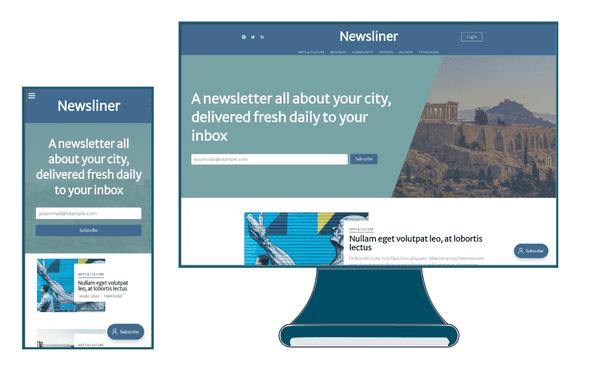 With our free Newsliner theme for Ghost we've put newsletters at the center of your website - literally. By putting prominent call to actions at key places in the theme, like the website header, home page banner and directly after posts, we are following best practices we've observed by small publishers who are succeeding in building communities and sustainable businesses around their content.
And with our free Ghost theme, you can start getting email subscribers right away - without any integrations with third-party tools like Mailchimp. (although, if you are already on a tool like Mailchimp, we are building premium theme that will have this integration built-in - contact us for more details if you would like to know more)
We've seen other free Ghost themes that look pretty, but don't give you the things that you really want - more subscribers, more engagement and more revenue. Instead, we built our free Ghost theme to be simple and functional with your website or blog revolving around your newsletter, yet still having an eye-catching design.
Key Features:
Absolutely free – use for personal or commercial purposes. Just make sure you credit us by keeping our link in the footer of your website
Fully responsive – mobile-friendly design that works on all screen sizes
Flexible and customizable design – change the theme colors and fonts without coding
Newsletter sign ups – supports newsletter sign ups with no additional configuration
Free memberships – you can choose which content you want to be visible to everyone and other posts that are only available to your email subscribers. All with no coding required
Haven't heard of Ghost and wondering why you should change from WordPress?
We will let the Ghost organization do most of the talking, and they have a great write-up comparing Ghost to WordPress. But what we love about it, is it's simplicity. WordPress has evolved into something that is good, but not great, at doing many things. While Ghost revolves around providing the best reading and writing experience, and making it simple to build a community around that. And even better, Ghost is an open-source project just like WordPress, so you know it will be around for years to come.
Installation instructions
Download the theme below. (or clone it on Github if you are a developer)
Upload the .zip file in Ghost (Design -> Upload theme)
Activate Newsliner theme
---