Know you should be doing more with your newsletter but don't have the time?
Newsletters are one of the keys to building a sustainable publication, but making it the centerpiece of your strategy is not as easy as it looks. There's a ton of advice out there and almost none of it is directly relevant to news sites and community publications…
That means there's lots of time searching around, reading materials meant for eCommerce websites, tech companies or people selling physical products… and that's wasted time you could be spending doing what you do best, researching, writing and creating great content for your readers.
Where do you get the time to sift through all of that noise to create an effective newsletter?
That's why we created the Email Blueprint
The Email Blueprint gives you everything you need to start doing email the right-way, quickly. We've taken the research and guess-work out of the process and adapted best practices from eCommerce email marketing to make them relevant to community entrepreneurs.
With the Email Blueprint you will learn to:
Develop a sales strategy around your newsletter
Properly sell your newsletter to get more subscribers
Create engagement with your newsletter right from the beginning
Design and deliver your newsletters so you are creating a funnel from free subscribers to paid
What's Included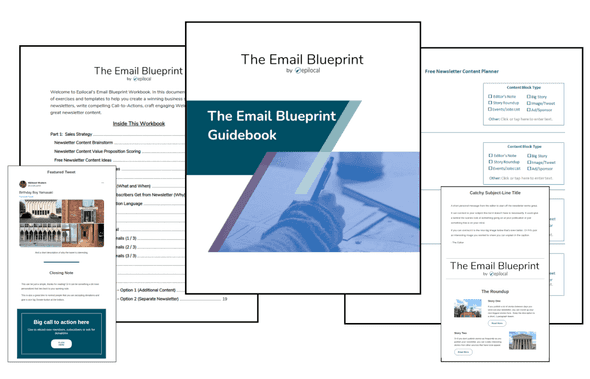 With the Email Blueprint package, you will get immediate digital access to the following:
A 25-page guidebook on the key concepts: Setting out your strategy, Call-to-Actions, Welcome emails, Free Newsletters and Paid Newsletters
An accompanying 20-page workbook of exercises and sample emails for you to easily adapt to your site
A set of email templates specifically tailored to news sites and all ready to upload into Mailchimp
---